Yes, I said weenus for person tent. This is the weenus, but it spelled differently than the 10th strange name for a company, but whatever we're going to be giving you a overview of the 10th today, as well as a review at the end, we've already spent one night in it and we're going to Spend another night in it tonight we bought the tent because we wanted to attempt to backpack with to take the dogs so with enough room that we'd all be comfortable.
We have 280 pound labs, so they're fairly sizable dogs and we felt we needed the room. The weenus is 6 pounds: 7 ounces. That's a pretty decent weight for a four person tent the inside dimensions of the tent are 80 by 88, not a bad size. All of us will fit in there. It will fit for people across with 20 inch air mats, but it would be a really tight squeeze, but for just the wife and I and the two dogs – it's not bad.
In fact, this may be a little too big. We could have saved a little weight there, but for the price, which was $ 99.99 on Amazon, can't complain I'll go through the specs and everything and show you soon. The features of the tent will tell you what we thought of the tent at the end. So stay tuned, so this is what it looks like when it comes from Amazon, wrapped in plastic. It was just inside a box.
Look like this! I'm going to take plastic off we're going to open this up and see. What's inside now, it's got a nice. Looking sack with compression straps looks like they give you an extra room in there. Oh, it's got a hold down, sack that's good, so you should be able to get this thing back in here. Oh snap, tent stakes, 15. He's some! Oh look at that guy wires! That are already put together. It looks like that's pretty cool.
Sometimes you have to build your own tent poles. There's two of them, I'm going to measure them. They are about eight millimeters. A little on the light side will have a heavy snow load. On top of the tent with these, but pretty practically anything else, you're going to be fine, let the rain fly and then the tent body itself. So we're going to go outside and set this up and we're going to time ourselves and see how long it takes.
Okay, I'm going to press my stopread when I get started here here. We go okay, first time all by myself, including stakes just pushed in eight minutes and 15 seconds. I should get faster and with two people much faster. It's all set up. I attach the guidelines and they're happy to say there are enough mistakes for everything all for all the corners and the flaps the guidelines, so it has a two vestibules.
This is the launch one in the front, we'll open that up in a second buddy swimming, to show you each side for the guidelines they come back down and there looks like they're reflective, which is a really nice touch. It keeps you from tripping over those things in the night, also the adjustable tensioning device. That's another! Nice touch, that's for $ 100 Tim there's a ventilation flap here, but you can open it close.
There's a little stiff tab here that velcro's in to keep it open or if you don't want it open, you can fold that down and then velcro that down now shut most of the wind out of there. So for right now, I think another nice touch is the adjustable tension for the rain flying this clips in right here and there's a adjustable, strap and it just clips in here it makes attaching the rain fly. Super easy.
You have another smaller vegetable. On the other side, there's two doors in this tent, and so you could probably store shoes and stuff on this side and Pat's on the other side, and you have the same thing on this side to another vent. So you have cross flow. So, no matter what direction the wind is coming from, you can get ventilation again. You can open a flap or open the vents if the winds are coming from the side.
So we're going to open this up. Oh these flaps also velcro down. That's a nice little touch too nice there's little toggles there. So then you can roll this up. So it looks like you can also zip through the mesh out of the way in chocolate, so it doesn't get every on everything. Double zipper come on in it's kind of cozy in here, so is pretty bare-bones and you kind of expect that from a $ 100 tent you have a just a couple of pockets, one on each side.
You have a hook in the center to hang a lantern or something from so about six inches. It is only a three season tent, so you're not expecting to stay nice and toasty in this thing during a blizzard or anything, and you wouldn't want to do that with a lightweight eight millimeter poles anyway, if you want to camp in the winner, get a Helderberg They're the best, but they'll cost you about fifteen times as much.
How do you open air close events from the inside? Can't that's a total booty thing? You get a couple packs in this side, maybe not four, four, four people that at least a couple and then on this side, there's another smaller vestibule and you could probably get it another pack here or you know your shoes or whatever it could be. On that side, all right so with the flap zip back down, you can see how much room there is in the vestibule there's a good mount that would hold our motion or light backpacks pretty well keep them out of the weather, and then this green just rolls Up and then there's a little toggle clasp here, one for each side: yeah zippers have the nylon cord cordage on it, because you know if your partners are getting up in the middle of the night and unzipping that clinking sound sucks.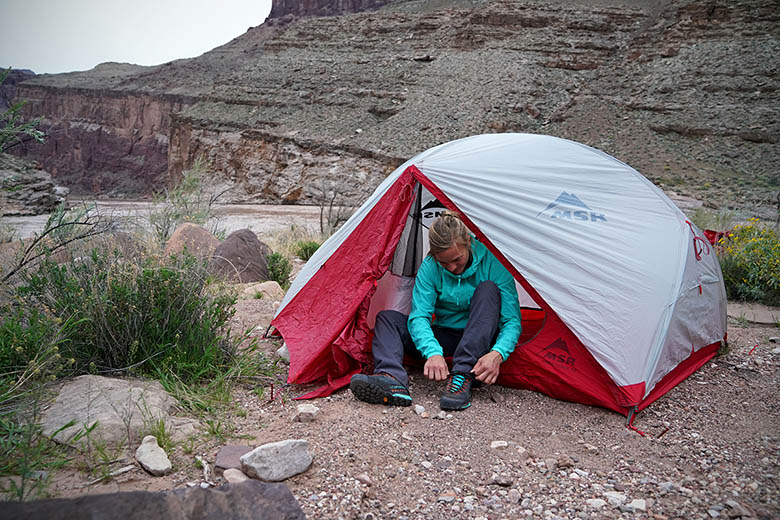 This is nice and quiet. Meaning me all right: I just wanted to mention that there's some room between the mesh and the outer fly except for right here, and this is the windward side of the tent. I think in order to handle that I'd have to put a cord on this. This tie down and then pull that out further away. Now, on the leeward side side opposite the wind is coming, there's plenty of room there. Any condensation on the fly will actually roll down that I'm it out of the way here, a touch and John's.
You know it would make a mess, so I'll probably get a little cord on both of those sides so that you can pull the sides away from the mesh a little bit better. The floor is a bathtub type design, meaning that it's sealed and and comes up. The side, so that should keep out most of the moisture the fabric on the bottom. Isn't too bad? I mean it. You know I've read reviews on Amazon where they say it was thin, but for a lightweight tent, it's actually not bad, and you can feel the the coating on it quite well.
I think I'm going to be fine with it. We had a tarp that we put down it's about the right size for this. If I'm backpacking, I'm not sure I bring a tarp unless I was knew, I was going to be camping on rough terrain, so we're going to get our thermal rest out blow them up and throw them in here and see how much room we have for the Dogs, I think it's going to be great. This is how we have things laid out.
My wife and I have therm-a-rest the 20 inch wide ones, and then we have the therm-a-rest trail Ridge. I believe that's what it's called pads for the dogs. Those are also 20 inches, so you can see you can fit four twin CH pads across and that's this is the short way. That's the 80 inch from that side to that. Aside from the this side, the foot to the head – that's 88 inches. There hope you can see it, but there you can see the guidelines are reflective and then there's reflective bits on the tent.
That's a pretty nice touch. It's fantabulous mr. Robertson. I would say it's pretty windy outside and it's not windy in here at all. There's a little bit of a breeze, but nothing bad at all. So it's pretty cozy in here, especially with our amazing sleeping bags. Yes, I'd agree, I mean you can hear the wind through the trees. It's blowing about 10 10 miles an hour, maybe 15, but in here it's there's hardly any breeze.
You can feel a little bit, but it's not bad and the dogs are settling in nicely. They found their spots. It took them a little while to figure out what the heck's going on and what are we doing yeah, but now they're, all cozy with their blankies and they're they're liking. All of us beyond the floor together, if you're like hey, this is cool. We get to cuddle with our mom and dad. This is where we're sleeping tonight karma all right turn this article off and just enjoy the evening and well let you know how the night goes when we get up waiting's.
Are you camera shy? Are you camera shy? You ask yes, oh oh, you got me. Oh baby feed me she's like me, so we spent two nights in the big green weenus. We're not going to be able to do this in part with a straight face. No we're just going to give you our impressions and spots on the tent, so tell me: what did you like about this highlight that it was sturdy in the wind? It was steadfast but seriously.
That is one thing I liked about it. I liked that it was roomy inside. I actually also liked the fact that there was a slight breeze going through the weenus, because I felt like I was warm enough in our bags I mean granted. We have really good sleeping bags and really good sleeping gear. It just kept lots of fresh air, so I didn't get stuffy or you know how tents can get. Sometimes the weenus was just nice and fresh.
What did you like about the waist I like that? It was roomy and it was a tall. It had a enough room that I could stand up inside it hunched over granite dogs. They went that way. The ease of setup was nice. I, like the touches that I've only seen on more expensive tents, where the rain flag clips in the reflective guys and the reflective tip touches on that, the exterior that was good and the cost.
https://m.youtube.com/watch?v=ifdKugUdTDY
I mean 400 bucks. It's really really hard to be yeah. The weenus is cheap, but good quality. One thing, and only one thing that really didn't like about it, is the exterior door to this side. The zipper on it was finicky. So if you want to get in your weenus, the zipper is a problem. Oh so funny. I mean who thought of naming a tent the weenus I mean. Who does that hey? Have you tried the weenus? Have you bought the weenus hey, you should really get a weenus.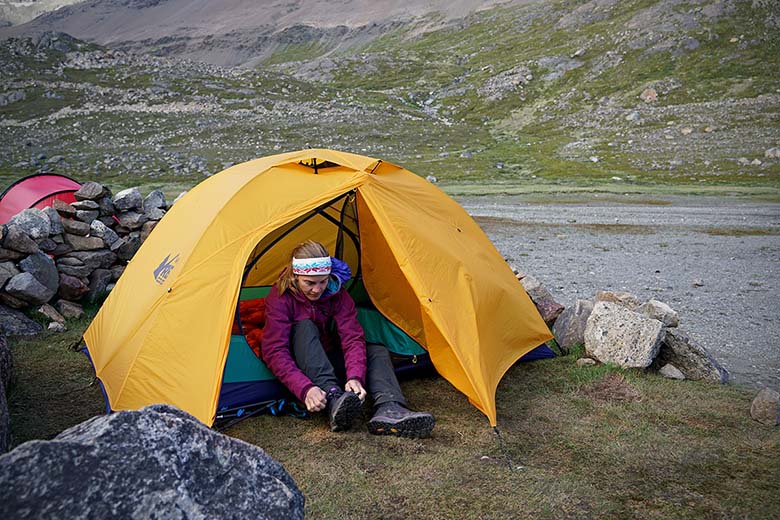 Do you want the green, the blue or the orange weenus? Another thing I actually really liked is that it has. You know two vegetables on either side, so I've never had a backpacking tent. Another thing I really liked about the weenus: it's that it's got two entries so there's a front entry and a back entry so either way you decide to go. You'll have an entrance point, so you don't have to really worry about how you setup the weenus cuz.
It's got two entries cuz, normally you're like when you're setting up your tent you're, always like where's the door where's the door. Well, it doesn't really matter so. You've got two, so you have more flexibility when you set it up. So I like that, we post a link below to Amazon where you can get the weenus and thanks for putting up with our innuendo, is impossible to avoid seriously. How can you not? Hopefully, you found this helpful and funny take care of Dell next time bye-bye and there we go cut the weenus back in his bag.
I know that I keep mentioning Spunks, but I like these pumpkin seeds and you should try them too! They are just great for camping and other fun activities. The video below is a little bit of a look into the shop that makes Spunks.